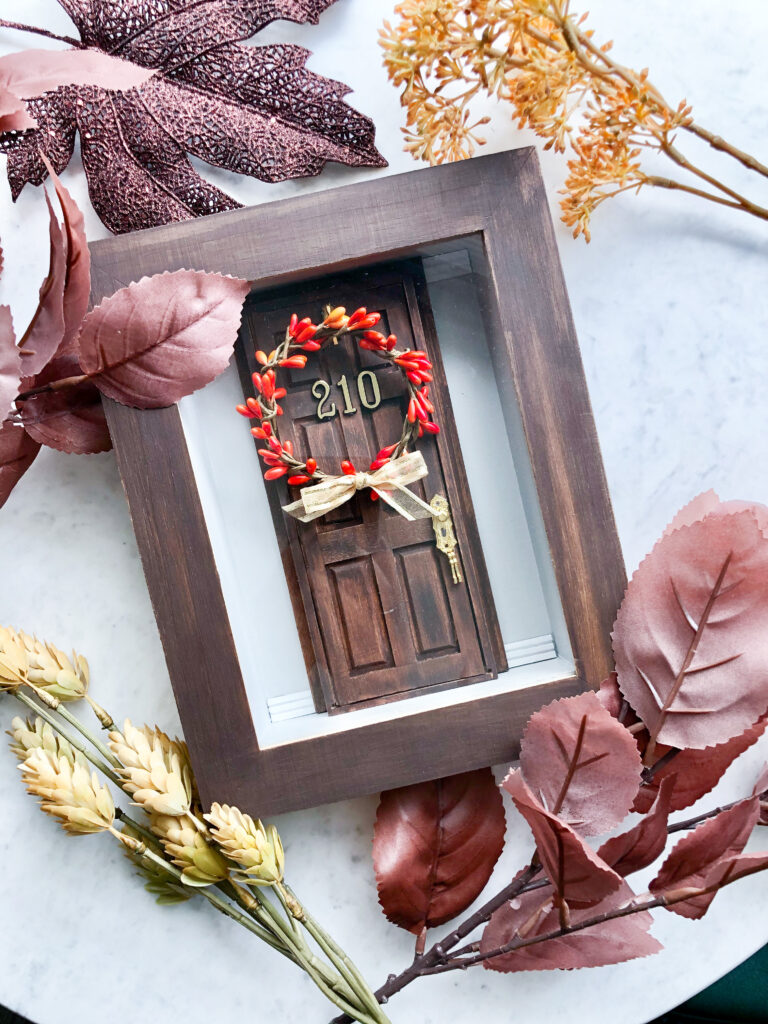 A DIY KEEPSAKE
Is it just me, or is everything cuter when it's miniature? I wanted to create something special to represent our first home and landed on an idea that is equally adorable and sentimental.
This project was a little extra special, too, because my nephew helped me put it all together. While I did not snap photos of the process – it's pretty straightforward. I did get a little extra and create seasonal wreaths – go big or go home (or little in this case?).
The materials:
A wooden shadowbox frame
Miniature wooden door (found in the dollhouse aisle at Hobby Lobby)
Trim (mine came with the door)
Door hardware – knob, keys, etc.
Numbers – I used adhesive clock numbers from the wooden crafts department
Floral stems to create wreaths
Paint, paintbrushes
Hot glue gun
I opted to paint my door and frame a deep brown using acrylic craft paint. For the interior, I really wanted to nail the sentimentality aspect of the project, so I went for the paint color we have on the walls of our condo – Chic Grey by Behr.
You can go as detailed as you want. I added trim and crown molding because, again, I was fully committed to the details. Once everything is painted and dried, glue it all together. My door just happened to fit snuggly inside my frame without being glued in, so I just sort of placed it in there. The fact that it swings open gives it such a realistic touch.
To attach the wreaths, I hot glued on a little hook that I found in the clock accessories aisle of the craft store. You may also be able to find one in the dollhouse section or create one with some craft wire.
This little project is not only a sweet representation of our first home, but it's also a fun topic of conversation when guests notice it on our bookshelf. Hope it inspires you to flex some creativity and create something sentimental.